Recognitions
HR Certification Institute Approved Provider
The HR Certification Institute (HRCI) is a global leader in developing rigorous exams for HR professionals that demonstrate mastery and real-world application of forward-thinking HR practices, policies and principles. As an HRCI Approved Provider, KTimeHR is certified to offer HR-related continuing education activities for HR professionals.
"Top Workplace" 2010-2016
KTimeHR has been selected as one of Orange County California's Top Workplaces by the Orange County Register for several years running. Companies are selected based on survey results from over 28,000 employees. The survey gauges employee satisfaction on issues such as satisfaction with senior leadership, alignment with company goals, compensation and benefits.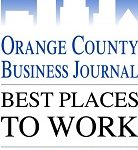 Orange County "Best Places to Work" List
The Orange County Business Journal, the "Best Places to Work" program is dedicated to identifying and recognizing the best employers. Employees are independently surveyed about their job satisfaction and commitment – two necessary ingredients in developing high-performing organizations and attracting top talent. Companies are evaluated on their leadership, the workplace environment and types of employee benefit plans including flexible work schedules, wellness programs and overall employee satisfaction. KTimeHR is pleased to have made the list for several years.
Due to the holiday, KTimeHR will close at 3:00 p.m. on Friday, May 25, and will be closed all day on Monday, May 28.