Time & Attendance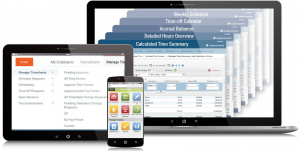 One Interface. One User Experience. Anytime, Anywhere.
The most accurate and versatile web-based time-and-labor management applications on the market.
Powerful Timekeeping Technology
Streamline workforce administration, including timecard processing, labor-cost tracking, scheduling, and absence management, simply and easily.
Address Critical Business Issues
Automate mandated employee notifications. Create and schedule custom reports with advanced filtering. Control overtime with real-time dashboard visibility into hours worked.
Compliance at Your Fingertips
Minimize risk exposure and easily navigate ever-growing, complex wage-and-hour laws, FLSA, and ACA mandates.
Fully Customized Solutions
Control real-time data access with customized, multi-level security profiles. Design dashboards and employee/manager self-service portals to your company's look and feel.
Regain Valuable Time to Focus on Your Business
Propel your company forward and increase your bottom-line with a single-source solution accessible anywhere, anytime.
System Features and Highlights
Track, manage, and control employee time and attendance
Electronic timesheet approval, time-off requests, and approvals
Robust report capabilities
Easily manage and track exceptions
Eliminate manual processes and improve payroll accuracy
User-friendly employee and manager self-service portals
Mobile application with location geofencing
Web-based timeclocks
Export options, including CSV, Excel, PDF, and XML
Due to the holiday, KTimeHR will close at 3:00 p.m. on Friday, May 25, and will be closed all day on Monday, May 28.